Sun 30 May 2010
If you love olives, rosemary and oranges, you must try this new find from the June 2010 issue of Bon Appetit. A stuffing of olives, garlic, rosemary and orange zest goes under the skin of the chicken breasts, which are then drizzled with a similarly flavoured dressing. Be sure to ask your butcher for boneless chicken breasts with the skin on, or bone them yourself. Grilled orange wedges are another nice addition to the finished dish.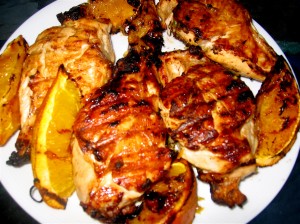 If you are trying to avoid additives and preservatives, it can be a challenge to find olives. If you buy your olives from a grocery store olive bar, ask to see the ingredients. I couldn't find additive- or preservative-free jarred olives for many years, but now use Pilaros green olives stuffed with garlic, which are available at Costco. If you use garlic-stuffed olives, you can omit the garlic called for in this recipe.
I grilled some asparagus, zucchini and eggplant along with the chicken and oranges and tossed the vegetables with a simple balsamic vinaigrette before serving.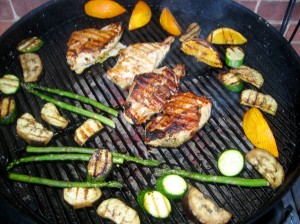 Stuffed Chicken Breasts with Rosemary-Orange Dressing
Ingredients
Chicken and stuffing
1 cup pitted brine-cured green olives
1 tablespoon olive oil
1 large garlic clove, peeled
1 1/2 teaspoons chopped fresh rosemary
1/2 teaspoon finely grated orange peel
6 boneless chicken breast halves with skin
Dressing and oranges
6 tablespoons orange juice
2 tablespoons chopped fresh rosemary
4 garlic cloves, pressed
1 tablespoon finely grated orange peel
3/4 cup olive oil
1/2 cup chopped pitted brine-cured green olives
Nonstick vegetable oil spray
2 large unpeeled oranges, each cut into 6 wedges
Preparation
Chicken and stuffing
Blend first 5 ingredients in mini processor until olives and garlic are chopped. Transfer stuffing to small bowl; season with salt and pepper. Using fingertips, gently loosen skin on 1 chicken breast, leaving 1 long side attached. Spread 1/6 of stuffing over flesh under skin. Pull skin flap over to cover; secure flap with metal pin or toothpick. Repeat with remaining chicken and stuffing. Arrange chicken on large rimmed baking sheet. Can be made 1 day ahead. Cover and chill.
Dressing and oranges
Combine first 4 ingredients in medium bowl. Gradually whisk in oil, then olives. Season dressing to taste with salt and pepper. Transfer 3/4 cup dressing to small bowl; reserve for serving.
Coat grill rack with nonstick spray and prepare barbecue (medium-high heat). Divide remaining dressing between 2 small cups. Drizzle chicken with dressing from 1 cup. Arrange orange wedges on sheet of foil; brush oranges with dressing from second cup.
Grill chicken until cooked through, drizzling with dressing from first cup and turning occasionally, 12 to 14 minutes. Grill orange wedges until heated through and slightly charred, turning and brushing often with dressing from second cup, about 10 minutes. Transfer chicken and orange wedges to platter. Serve with reserved 3/4 cup dressing. Serves 6.
From the June 2010 issue of Bon Appetit
3 Responses to " Stuffed Chicken Breasts with Rosemary-Orange Dressing "
Trackbacks & Pingbacks: