Mon 24 May 2010
My dear friend Eileen loves stewed rhubarb and suggested I post a recipe for it on my blog. We have two large patches in the garden that are growing like crazy in this weather.
The fastest recipe for stewed rhubarb is to combine five cups of chopped rhubarb with 1/2 cup of sugar and 1/3 cup of water and simmer it until tender. I also recently made this delicious confit from Lucy Waverman's latest cookbook, A Year in Lucy's Kitchen. Roasting gives the stalks a different texture and the caramel adds a depth of sweetness of flavour that counteracts the tart rhubarb. It's delicious on its own, over vanilla ice cream or with just about anything!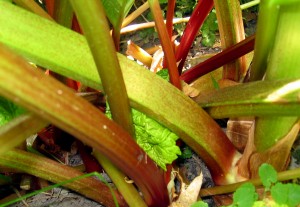 Roasted Rhubarb Confit with Caramel
Ingredients:
1 lb rhubarb, cut in 1-inch pieces (about 4 cups)
¼ cup granulated sugar
¼ cup corn syrup
¼ cup brown sugar
¼ cup orange juice, preferably from a blood orange
Directions:
Preheat oven to 350 degrees. Toss rhubarb and granulated sugar together in a buttered baking dish. Spread in a single layer and roast for 20-25 minutes or until tender.
Combine corn syrup, brown sugar and orange juice in a small pot. Bring to a boil over medium heat and simmer for 10 minutes, or until mixture thickens. Remove from heat, cool a little, and pour over roasted rhubarb, tossing gently to mix in any rhubarb juices.
From A Year in Lucy's Kitchen by Lucy Waverman
One Response to " Roasted Rhubarb Confit with Caramel "
Trackbacks & Pingbacks: