Thu 22 Jul 2010
It's that time of year.
The green and yellow beans and zucchini are piling up in the garden and I'm on the lookout for new ways to enjoy the harvest.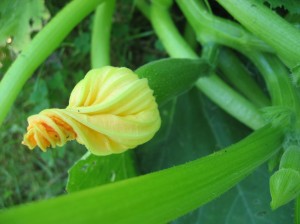 This new find from the June 2010 issue of Bon Appetit is a keeper. In addition to using beans and zucchini, it calls for basil and Italian parsley, which are also at their peak. The veggies are tossed in a delicious sauce verte, which is like a pesto made with basil, parsley, scallion, capers, lemon juice, mustard, garlic and olive oil.
A few notes on this recipe: Unless you like very crunchy beans, blanch them first, so that they are ready at the same time as the zucchini. Otherwise, the zucchini gets soggy and begins to disintegrate. You can use yellow and/or green beans and I think the sauce verte would also be good made with other herbs, such as tarragon and summer savory.
To avoid additives and preservatives in this recipe, use fresh lemon juice, capers without additives (I use Unico brand) and Dijon mustard without preservatives, sulfites, sodium benzoate or added colour (I use President's Choice Old-Fashioned Dijon).
Ingredients:
Sauce verte
1/3 cup (packed) fresh basil leaves
1 green onion, coarsely chopped
2 tablespoons (packed) fresh Italian parsley
2 tablespoons drained capers
1 tablespoon fresh lemon juice
2 teaspoons Dijon mustard
1 garlic clove, peeled
3 tablespoons extra-virgin olive oil
Vegetables
1 tablespoon olive oil
1 pound green beans, stem end trimmed
12 ounces zucchini, halved lengthwise, each half cut lengthwise into 1/3-inch-wide strips
3 tablespoons water
2 tablespoons fresh Italian parsley leaves (for garnish)
Preparation:
For sauce verte

Blend first 7 ingredients in processor until finely chopped. With machine running, gradually add olive oil. Process until coarse puree forms. Season sauce verte to taste with salt and pepper. Can be made 1 day ahead. Cover and refrigerate.
For vegetables

Heat oil in heavy large nonstick skillet over medium-high heat. Add vegetables; stir until coated. Sprinkle with salt and 3 tablespoons water. Cover; cook vegetables until almost crisp-tender, stirring occasionally, about 4 minutes. Uncover; cook until vegetables are just tender, about 2 minutes longer. Stir in enough sauce verte to coat vegetables generously. Season with salt and pepper. Transfer to bowl. Garnish with parsley and serve. Serves 6.
From the June 2010 issue of Bon Appetit
3 Responses to " Green Beans and Zucchini with Sauce Verte "
Trackbacks & Pingbacks: